You're kidding me… right?
So a few days ago we noticed a sign posted up by the front mail-boxes that a little boy named "Macey" has gone missing. Clipped ear, crazy yellow eyes, completely Grey coloring. Knowing full-well that this is the lil one we've been caring for, we felt it was only fair to actually tell the owner where he's been hanging out.
Of course by the time we got anywhere near the house we found out why he's never there. The "owner" of this lil boy is the same owner that allows her dogs to run free at night and pretty much cause nothing but trouble where-ever and whenever they please. They're horrible animals that are a direct reflection of the owner.
Karen was already in the driveway by the time we really realized what we'd gotten ourselves into. She told the lady that he's been hanging out at our house, she went on to say "Oh, that's too funny, he does whatever he wants. His sister has been going nuts looking for him, we just wanted to know where he is. Usually he'll wonder off but he'll at least check in… he hasn't in a while, we were worried." So Karen let them know what house we were at and the lady said that she'd take a walk down there later on to see him.
About a half hour later she waddled down with her daughter, saw him eating on the porch and went right for him, he wanted absolutely nothing to do with either one of them, Bella was (oddly enough) more interested in their presence than LilBoy was.
So we got to talking while he was finishing his lunch, and grooming himself. She noted that she'd adopted him and his sister when they were about 8-10 weeks old, and they've been living outside ever since and I then had to so something that is SUPER PAINFUL for me – BITE MY TONGUE. (If you know me, you know this ain't happenin easily!)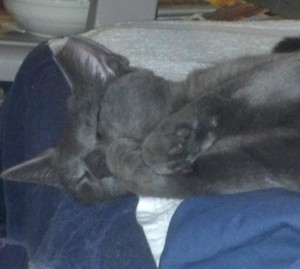 HOW THE FUCK ARE YOU GOING TO CONSCIOUSLY STAND THERE AND TELL ME THAT YOU ADOPTED INNOCENT KITTENS TO TURN THEM INTO STRAY CATS?! THE POINT OF ADOPTING AN ANIMAL IS TO PROVIDE IT WITH A GOOD HOME, NOT A FUCKING FEEDING STATION TO FIGHT WITH THE REST OF THE STRAYS OVER THEIR MEALS!
I kept it to myself, It hurt but I did it. He headed down to the driveway while we were talking and the little girl picked him up noting that he got heavy and is a lot softer. Who would have thought that FEEDING an animal and giving him a bath would actually work to HIS benefit? :: head desk ::
He was then picked up by the lady, and walked back down to her house because she wanted to introduce him back to his sister so she stops going stir-crazy looking for him. Not like she couldn't have wondered down here herself, lord knows she's floating around on the road too.
So about an hour later I heard a tapping sound on the deck, guess who left that house with the quickness and came back down here? Yep, lil boy – been here since.
So please tell me, how you can look at this cute little face and think that it's perfectly OK to know that you took the time to adopt him in order to give him AND his sister a good home but turned around and said "Let 'em live outside".
Am I wrong for just wanting to bring him in the house and say "Nope, haven't seen him" if she comes around? Am I wrong for wanting to report her to the DE ASPCA for animal cruelty? And to top that, report her to CPS because she can't figure out how to properly raise her child either? Considering it's one of the known drug houses in the complex? I'm so fucking annoyed with this goddamn family. Where's he going this Winter? Lord knows he was hopping around in the snow earlier this year, I saw him and his sister numerous times leaving tracks everywhere. Did they even have a warm place to sleep that wasn't underneath someone's shed?
I can't fucking stand this lady, I want to fucking run her ass over.