Rollin'… rollin'… rollin'…
Quick note: I'm not a hoarder, this is what moving looks like. This is also a graphics heavy post.
In the deep recess of my mind I will always have the "I need to sit down and get this done" mentality. The reality of that, however, it just doesn't freaking happen. I've deleted five posts that were sitting in drafts over the course of the past few months. I'm to a point in my life where I'm really just too bored with things to even care about them. I always find a way to side track myself just to get away from the task at hand. This is killing me on all levels because I feel like I don't actually complete anything from start to finish in the usual time frame.
Last month Sean and I headed up to New York because he had an appointment in Manhattan, and we hadn't been up there in well over a year so we were doing double-duty on this trip by getting my childhood bedroom packed up so we could move everything into the house. I wanted to get up there earlier, but I also wanted to get the new house settled a little bit before there would be complete and total chaos with new stuff. I'm actually happy I did it this way because the end result of unloading the truck into the living room put my OCD about keeping things clean into a tail spin.
As you can see from the photo below, the living room and dining room were covered in boxes and bags and just fabric everywhere. It took me a solid 3 days to get everything where it was supposed to go.  Literally, three days, 8-10 hour days a piece. Books were put on the shelves, furniture was moved to the rooms they actually belonged in, DVD's and Games were put away, shelves were hung in the hall closet to accommodate the extra jackets, winter gear, and even board games (that I had no idea I had a stock-pile of) and then all of the clothes somehow wound up inside of MY closet. This is primarily because it's a 8-foot by 8-foot room and there was enough space on the floor, and enough height with the shelves that I could actually get the boxes into the shelves.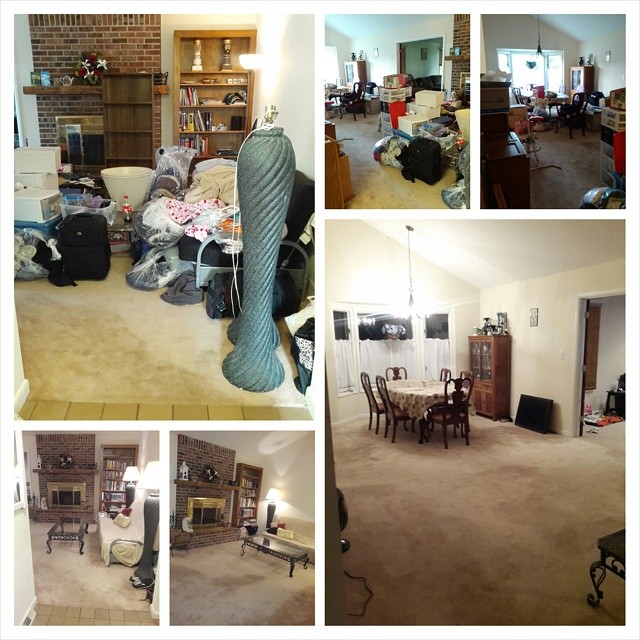 So this is ultimately how the house looked after a solid 3 days of busting my ass. And even though the mess of stuff didn't actually wind up in the den initially, since I was on a cleaning rampage anyway – I went a head and not only rearranged the furniture in the den, but cleaned and organized it from top to bottom as well.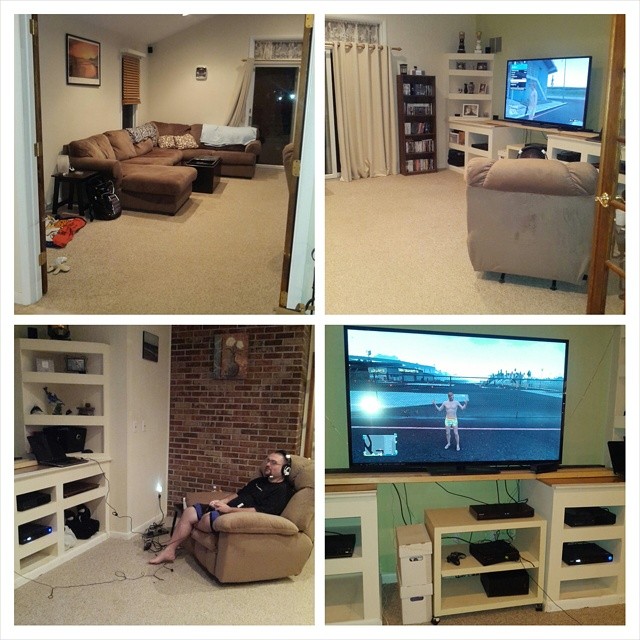 Bella now has her own little corner by the doors, I needed this to happen because I wasn't able to close the glass doors with the way the furniture previously was formatted. So I had to move Sean to his own corner, which works out better for him because it's right in front of the TV. Not many people believe that it's a 70-inch television, but it is and it just looks super small up against the huge wall it's on.
The closet was a different story.  I think since it's in an area that doesn't get a lot of daily foot traffic, I was able to keep it at the back of my mind… as well as at the back of the house. I had no ability to even really access the closet, because three weeks of laundry kind of piled up in front of it. Of course, after the laundry was done I still couldn't get towards the shelves because of everything on the floor inside of the closet that needed to be sorted through and thrown away.  In the end, however, the final result makes me very happy. Note: The bathroom and closet are not green, they're white…for some reason the tablet is randomly changing things to different colors.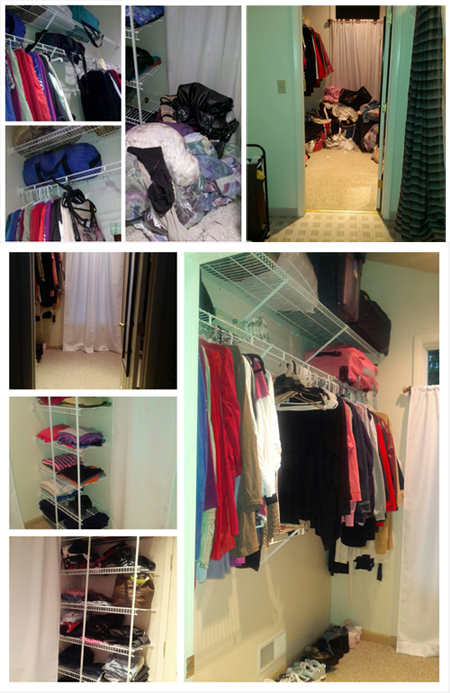 Another area we're tackling is the kitchen.  I've been fairly unhappy with it since we moved in. The location of the island really cut down the proper use of the counter space. So, what we did was get rid of the island. Does this sound crazy? Sure, but we turned the island so that it is up against the wall instead of coming out from the wall. We then purchased two upper cabinets to hang above it, and cut the depth of the counter top so there is no longer the ability to put the barstools up against it. This isn't something I'm worried about though, what we're going to be doing on the other side of the kitchen is opening up the wall to have a picture window (that will allow for more light in the Living Room), we'll be purchasing two lower cabinets to flank on either side of the bar stools that will now overlook the living room and fireplace. This area will more than likely be used for quick meals, or going through the mail, or just sitting down and having a cup of coffee.  Maybe if Sean and I ever decide that we're ready for children this could eventually turn into a homework space. I don't know… I just know that by opening things up into the Living Room/Dining Room it'll just make the kitchen feel larger than it actually is.  In order to do the walls, however, I'll have already needed to have countertops ready to go.  We're replacing the butcher block look formica with a slate black color, I'll need to purchase two counter tops to replace the existing ones, and then an additional one to put against the new wall. I'll be painting all the cabinets white, putting in new flooring, and going with a grey tone on the walls.  I'll have pictures of that in an upcoming post, this one was a little picture heavy and I'm personally not 100% happy with how the kitchen currently looks so obviously there's nothing to show.
In any event, I actually finally sat down and got everything in my head written down. I am going to try for more posts, lord knows there's enough going on that I want to blog about but at least for now the "I finally have 30 years of my life under ONE roof" post is finally complete.